Trending of OOH Advertising Media
According to the Outdoor Advertising Association of America, OOH advertising is now a $29 billion market in the US and is responsible for approximately 6 percent of the $500 billion global advertising spending, outweighing TV advertising. Its revenue is expected to grow by 3 to 4 percent per year over the next five years to reach $33 billion by 2021 in the US.
As part of its increasing importance in the media mix, OOH market share has increased from 8 percent to 10 percent of traditional media advertising spending, which includes TV, print, radio, among other categories. Given the fragmented viewing habits of consumers and the fact that they are always on the move, it's no surprise that OOH media is playing a more important role in media plans.
Supermarket advertising is one type of OOH media and refers to out of home media placement in the supermarket arena. Given the hyper-local aspect of this particular media, local and regional business utilize this media often so they can target shoppers in a specific zip code or DMA since those are the prospects most likely to utilize their services. National advertisers, specifically CPG brands, use this media since the advertising is at the store level, right at the point of purchase yet can also be an effective vehicle for generating an immediate purchase or long-term branding.
Forbes states that 70% of purchase decisions are made in-store by consumers; and it makes sense since shoppers spend an average of 41 minutes per visit, and go often, sometimes 2-3 times per week, so supermarket advertising offers not only exposure to the shoppers, but repetition as well, resulting in saturation of its message to the shopper.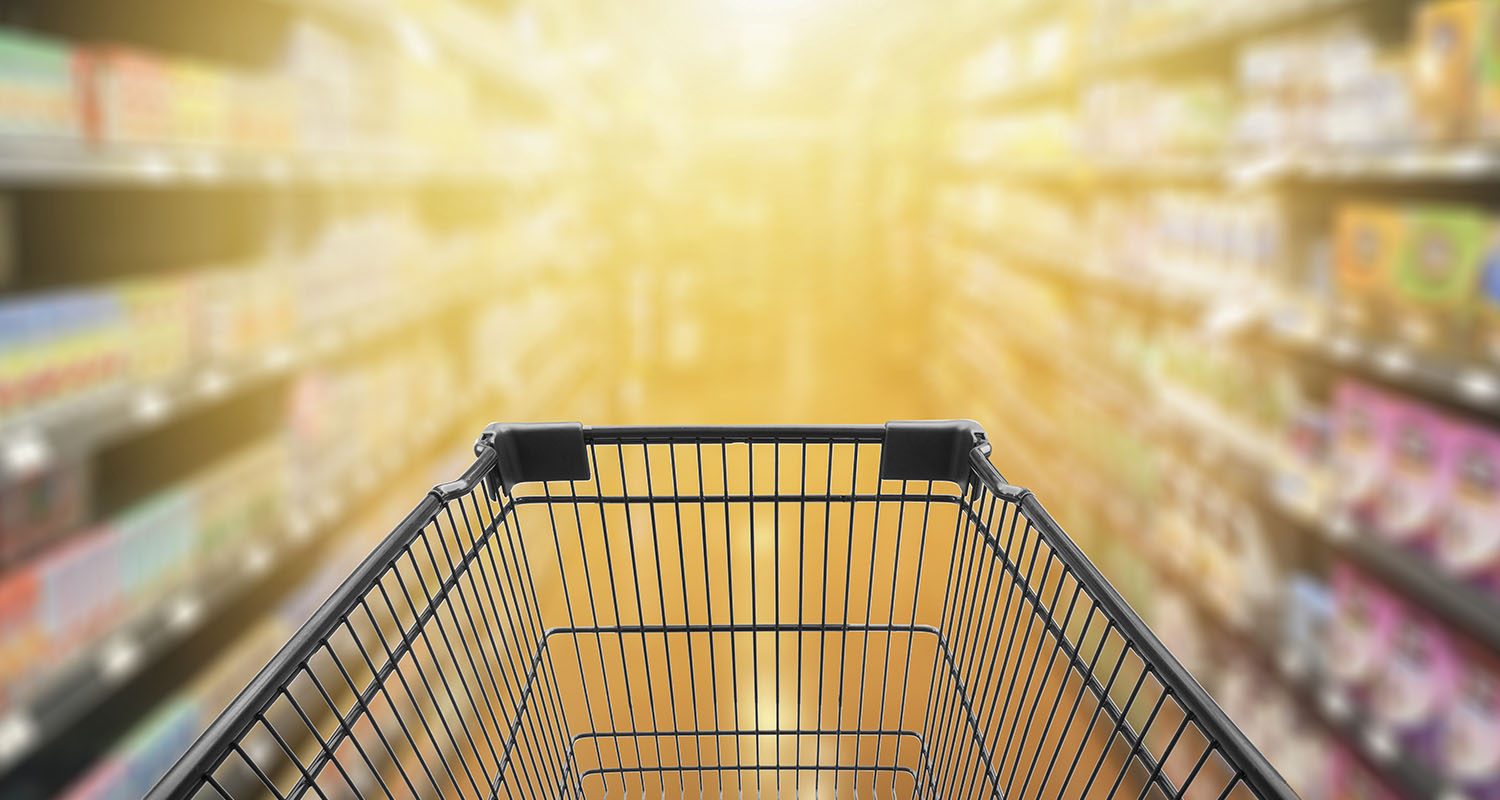 Types of Supermarket Advertising
There are several media formats that represent in-store supermarket advertising including print and digital:
Supermarket Advertising Print formats include:
Placed on either the baby seat or front of the cart, Shopping carts provide continuous advertising throughout the entire duration of a consumer's shopping trip.
The Welcome Center is typically placed at the entrance/exit of the store. The fixture distributes weekly circulars and complimentary cart wipes and offers up to 8 square feet of advertising.
Located inside the entrance or exit vestibule of the store, the Market Information Center provides advertisers with large-scale advertising. With up to 16 square feet of space to deliver an advertiser's message.
Ad Benches can be found outside the supermarket entrance, inside the interior vestibule or across from the checkout aisles. Benches are another classic in-store media format as they provide advertisers with the opportunity to deliver their message on a 2' x 8' banner.
• Receipt/Register tapes
Register tape advertising places your advertisement on the back of a receipt, typically in the form of a coupon. Customers must receive their receipt after checking out.
• Shelf Talkers
Shelf display advertisements are found promoting new deals or brands on product shelves.
• Floor Graphics
Displays can be found on the floor of the supermarket.
Separately, in-store Radio Advertising is an option for advertisers to reach shoppers. An in-store Radio Network delivers your message to shoppers through targeted in-store radio programming. Your radio commercial will reach every shopper, everywhere in the store.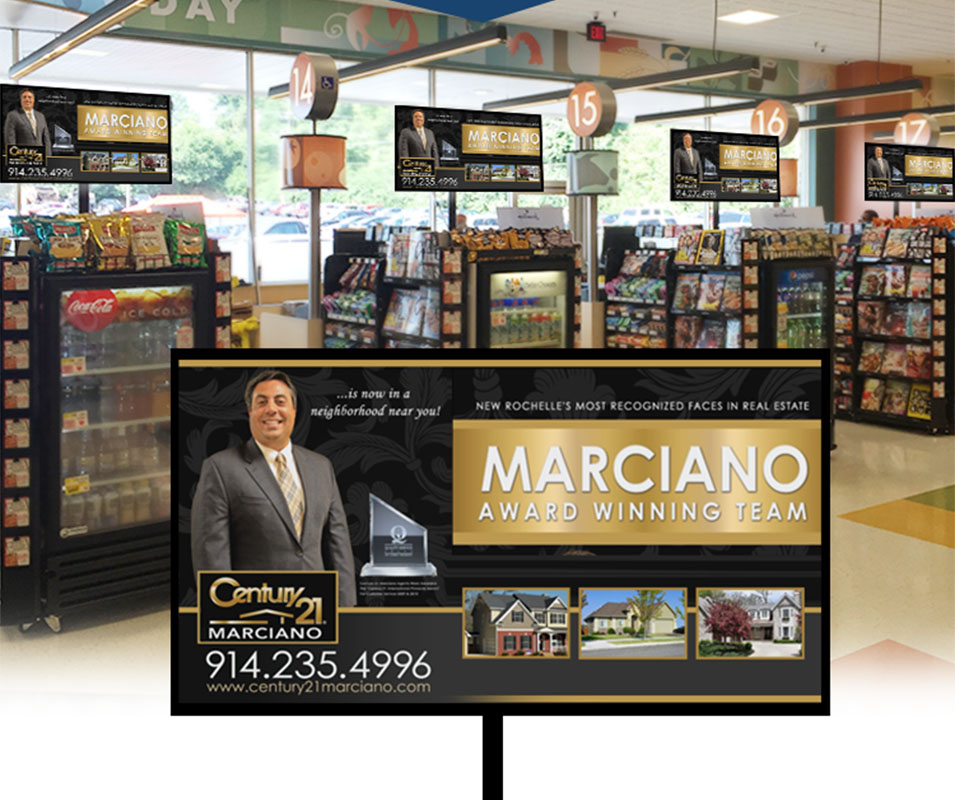 Digital and Broadcast Innovations
The latest and most innovative programs in OOH in-store supermarket advertising are the new digital formats. Today's digital out of home offers new technologies, new formats, and more creative thinking to help advertisers take their message further. The industry has embraced innovation in all parts of the business to keep pace with where advertising and the consumer are headed.
In supermarkets, we see high-definition digital screens are placed in high-traffic areas throughout the supermarket allowing for an advertiser's message to reach consumers directly at point-of-purchase and often where there is dwell time breaking thru the clutter, and holding people's attention. Food courts, deli and app areas, entrance/exit and in the checkout/register area are all locations for digital. Here are two of the newest programs…
MarketVision Network network is a bank of screens (anywhere from 8-12 HD screens) placed right at checkout delivering an advertisers message to a captive audience. Branded content featured on the network offers programming that is entertaining and engaging, along with the video advertising on screen.
MarketVision Kiosk digital displays are strategically placed in the deli/app and perimeter departments which are heavily trafficked area where there is dwell time, allowing for maximum exposure and engagement of a brand's message to the shopper. The innovative, state-of-the-art HD displays attract attention through rich, dynamic motion graphics.
Any combination of OOH supermarket strategies including print display and broadcast products allows an advertiser's message to follow the path of the shopper for maximum message exposure.
Advertising to supermarket shoppers is an effective tool in any brand's marketing mix. Multiple campaigns and platforms can combine strategies to create a marketing plan that reaches a wide, yet targeted audience to build brand awareness with a goal to increase sales.